Committed to Customer Satisfaction
Almost all of our customers are repeat or referred customers, thanks to our quality service and fast response times. Our customers love telling their friends and family what a wonderful job we've done on their water pump systems, so they come to us as well. Through hard work, honesty, integrity, and a passion for quality, our father-and-son team has built a successful business to people who need quality services.
Contact us today @802-476-4361 to request an estimate of our water pump system installation or repair services.
Products and Services:
Artesian Well Pumps Including Submersibles & Jet
Complete Water Pump & System Repair
Complete Water System Repair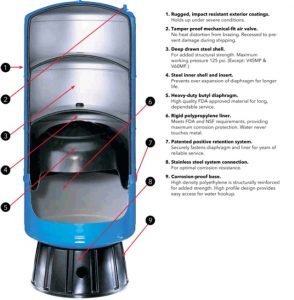 Design & Installation
Emergency Same Day Service On All Brands of Pumps
Family Owned & Operated
Filters
Hydrofracture
Inspections
Installation
Installations
Maintenance
New Systems
New Systems Water Softeners & Filters


Purification Systems
Radio Dispatched Services
Repair Services
Repairs
Replacements
Residential & Commercial
Residential Equipment
Sales & Service On All Artesian Well Pumps
SalesOfWellsAndPumps
Same Day Service On All Brands
Service & Repair
Spring Water Pumps
Sump Pumps
Sump Water Pumps
Systems Design
Testing
UVPurifiers
Water Analysis

Water Line Installation
Water Pressure Problems
Water Softeners & Filters
Water Softening
Water Testing New Systems
Water Treatment
WaterSofteners
Well Deepening
Well Desanding
Well Drilling
Well Locating
Well Pumps
Well Troubleshooting
Our service truck is stocked with 12 submersible water pumps up to 3/4 hp. We also carry 2 of the most common pressure tanks, complete line of control boxes, wire, fittings, and all products to repair your water system.
Our shop is stocked with 60 submersible water pumps up to 2 hp, 6 jet pumps, 18 pressure tanks, wire up to #6, uv lights and all accessories needed for your water system.